NEW THIS WEEK – MONDAY, 23RD FEBRUARY 2009
Hi there
Work's been pretty busy this week so the poor old scanner has been having a rest. Good news is that a couple of patches arrived from the US this week, the US 14 Corps & the US 23 Corps, which now completes the set of wartime US Corps patches. Also this week a number of British cloth shoulder titles have been added to the military badge section.
Also we've popped on a dozen or so Morris C4 & C8 15cwt lorries – see below. I wonder where the people on the photo area now ? If it's you then please email us and tell us if you still have the truck.
Noticed from the website stats that FAT's (Field Artillery Tractors) are a common search, so have addded half a dozen of these to the WW2 Gun Tractors section. Also added a couple of Humber Snipe Heavy Utilities as well.
Anyway back to sorting out some more photographs to share with you fellow enthusiasts from all over the world.
Cheers !
Simon
NEW ON MILIBLOG THIS WEEK – MONDAY, FEBRUARY 16TH, 2009
Hi there
A warm welcome to you all, especially to those visiting us for the first time, where I hope you find something of interest. Last week saw new visitors from Japan, Argentina, India and Germany.
The world of the military vehicle enthusiast is so varied and can cover a multitude of different sizes, nationalities and or course age periods. In the MV scene in the 1970′s and early 1980′s, WW2 vehicles of Britain, USA and Canada were the most popular and 1950′s age vehicles, especially British were often parked away from the main crowd at any show. I'm glad to say this has changed significantly since ! Ok, enough woffle, down to telling you all the new stuff this week !
We had an email from Chris Jones who wanted us to show more 1980′s British artic tractors and as a result  a whole load of Scammell Crusaders, Ford Iveco 3828 and Leyland Mastiff Tractors now feature. To find them just follow the 'How To' tab and look under the British, 1980′s in service, and artics. I always find it fascinating not only to study the vehicle in our collection of photographs, but also what load it's carrying or what's going on in the background. Some of the fashions in the photos also cause some raised eyebrows! For example, look at the photo below of the Leyland Mastiff with artic trailer and its load.
Now we've just received an email from George Rowley in Walsall who wants to know if we have any old Bedford RL 3 Tonners coming up. Well specially for you George, today we've popped on a dozen or so for your delight. I hope this brings back happy memories of your time in Germany.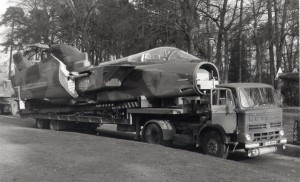 Leyland Mastiff 4×2 Tractor (74 AN 16)
There's new stuff being added each day here and there. Along with the Bedford RL's, a few more Austin K9 1Ton Wireless Trucks of the same period have just gone on this evening.
So back to the scanner……
Cheerio,
Simon
NEW THIS WEEK – MONDAY FEBRUARY 9TH, 2009
Hi there
New to the website this week are the US Infantry Division patches from 1st to 104th of WW2, and a number of US Army Air Force patches, including the 8th & 9th which flew out of East Anglia. This means we now have over 1200 photographs so far of vehicles, badges and original service photos. Don't forget, to see all these many different photographs, follow the 'How To Use' tab for full instructions.
From the statistics, I see a number of you have been looking for AEC Matador gun tractors, so we have so far this week added another 15 to the gallary of British, WW2 Preserved, gun tractors category. Still lots to scan and add to the galleries so please pop back and visit again. In fact from the stats I see that many of you visit during a lunchtime break, which is an excellent idea to unwind from the stresses and straines of office life. An example of one of the Matadors is below, just click on it to supersize !
Also a big welcome to those who have visited the site from all over the world, with this week in particular visitors from the Netherlands, Belgium, Italy, Russia and Australia.